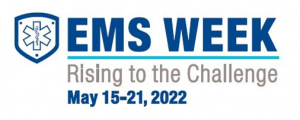 State College, PA—Centre LifeLink EMS will be celebrating National EMS Week, beginning May 15th, through May 21st; highlighting different aspects of EMS throughout the week and inviting the community and press to participate. This year's EMS Week theme is "Rising to the Challenge". The EMS Week campaign supports and strengthens the EMS community by honoring accomplishments and increasing awareness of the critical role of EMS. Activities to open to the community to help in celebrating Centre LifeLink include:
Safety Tuesday—Tuesday, May 17th: Free Community Family and Friends CPR class @ Centre LifeLink, 6:00 pm. To register for this free class, please go to: https://shop.centrelifelink.com/friends_and_family_cpr_may_17_at_6_00_pm_free_class_c_p121.htm
EMS for Children Day—Wednesday, May 18th: Centre LifeLink will be visiting local preschools to show the ambulance and explain what EMS providers do in our community.
"National Stop the Bleed" Day—Thursday, May 19th: Centre LifeLink EMS and the Pennsylvania Military Museum will partner to present a hands-on Stop the Bleed program at the Military Museum site at 51 Boal Avenue in Boalsburg. Beginning at 9:00 a.m., this course is open to anyone who would like to attend, but due to limited space, this first program will be limited in attendance. To reserve a space in the class, please email: Training@centrelifelink.com
Additionally, Centre LifeLink celebrates EMS Week internally by providing meals for our crews (day shift and night shift), throughout the week.
For any questions or media inquiries, please contact Marketing Manager, Lauren Shurgalla: LShurgalla@centrelifelink.com