Station Tours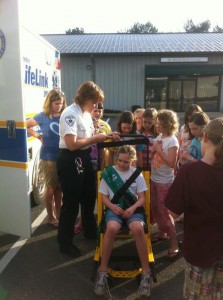 Throughout the year, dozens of Scout troops and other clubs and organizations visit our station to learn more about emergency medical services in the community.
We also help Girl and Boy Scouts earn First Aid Badges. Topics we generally cover include:
How to get help from 911
First steps to take in an emergency
What an EMT/Paramedic does
How to treat minor injuries and urgent first aid issues
We are happy to accommodate your group and welcome all ages to the station for tours. Please contact marketing manager Lauren Shurgalla here, or at (814) 237-8163 to schedule a tour.