CREST

The Central Region Emergency Strike Team (C.R.E.S.T) is the wilderness search and rescue/specialty disaster support division of Centre LifeLink EMS, Inc. Formed in November 2006, CREST is proud to serve the citizens of Centre County and the neighboring counties of Blair, Clearfield, Clinton, Union, Mifflin and Huntingdon in lost person incidents, specialty rescues, special medical support and disaster responses.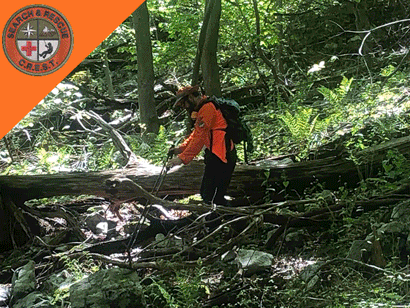 WHAT IS SEARCH & RESCUE?
Are you intrigued by stories of wilderness rescues and searches for missing hikers, hunters, or mountain bikers? Then maybe being a Search and Rescue, often referred to as "SAR", volunteer is right for you.
SAR volunteers come from all walks of life and careers. The team consists of young and old members, ex-military, adventure scouts, retirees, medical professionals, IT specialists, teachers, and business professionals. But the one commonality is how our team thrives in the great outdoors with a desire to help our fellow nature, adventure and outdoor sports lovers, or just other persons who find themselves in unfortunate situations.
CREST is always recruiting new volunteers. If you are interested, need more information, or just want to talk about possibilities…contact us today at CREST.teaminfo@gmail.com
WHO WE ARE
CREST responds to statewide and national call outs as requested. To date, CREST has been called out on over 100 missions. As a Specialty Wilderness Response Team, CREST is a member of the PA Search and Rescue Council (PSARC) and the South Central Mountains Regional Task Force.
Team members train generally 100 or more hours prior to deploying for search and rescue operations and certify through the National Association for Search and Rescue (NASAR) as Search and Rescue Specialists. In addition, operational members are certified in a host of related training in NIMS/ICS, Terrorism Awareness, Hazardous Materials Operations, and Large Animal Rescue. CREST meets all of the requirements for a Type III Wilderness Search and Rescue Team, as outlined by the US Department of Homeland Security and the Federal Emergency Management Agency (FEMA).
Contact CREST
For additional information, please contact us:
Email: CREST.teaminfo@gmail.com
or Jason Tartalone at jtartalone@centrelifelink.com