Non-Emergency Van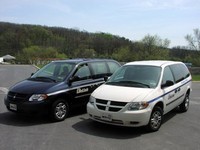 Offering both wheelchair and litter transportation, our van service will help you get to where you need to be.
Unlike some transport services that only provide "curb service," our kind and confident van drivers come to your door to help you into our van. With our service you can even have a driver wait during your appointment until you are ready to go home.
If you have any questions regarding our non-emergency transport services, please contact our transport line at (814) 231-8988.
 FAQ
Q. Will my insurance cover my wheelchair or litter van transportation?
A. In most cases health insurance does not cover transportation provided in either a wheelchair or litter van. There is no medical care provided in these circumstances and therefore the health insurance will not cover the service. If you feel that your particular health insurance carrier should or will cover this service you should call them to confirm this and then call and ask that we submit the claim on your behalf.
Q. Does my membership cover wheelchair or litter van transports?
A. Your membership is designated for emergency ambulance service only; it does not cover the non-emergency transportation provided by the van service.
Q. Do I have to schedule an appointment to use the service?
A. The van service is a scheduled service. Time slots are available on a first-come, first-serve basis. It is important to know that we also provide van service to many local facilities, so it is best to schedule your van transportation as far in advance as possible.
Note: Van transportation is a non-emergent service. If you require immediate medical attention, please dial 911 to request an emergency ambulance