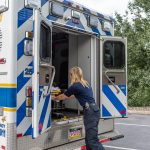 June 10, 2022—The 2021 Cardiac Arrest Registry to Enhance Survival (CARES) report is out. Once again, Centre LifeLink EMS has ended the year with data on pace with the National and State results, and in some cases, has exceeded their benchmarks.
Overall, Centre LifeLink's return of spontaneous circulation (ROSC) was 42%, which exceeds National data (27%), and the State's (30%). In addition to getting a pulse back (ROSC), Centre LifeLink strives to improve the number of patients who are discharged from the hospital with good neurological function. In 2021, 17% of cardiac arrest patients were released from the hospital with "good or moderate cerebral performance"; which is significantly higher than the State data (7%), and the National data (8%).
Centre LifeLink thanks bystanders in the community, and especially the local law enforcement agencies for the positive numbers in the 2021 CARES report. State College, Ferguson, and Patton Township Police Departments respond to all medical emergencies in the Centre Region, many times before the ambulance arrives. Data shows that officers are on scene within 4 minutes of being notified of a cardiac arrest. All officers are trained in CPR and Automatic External Defibrillators (AED). Between law enforcement, and community bystanders, 100% of cardiac arrests have had an AED applied before the ambulance arrived on scene. 53% of the time, CPR is started by a family member or a concerned bystander; this numbers is 38% higher than the State, and 40% higher than the National data.
When someone goes into cardiac arrest, they literally have minutes until the cells in body begin to die, and starting CPR as soon as possible will extend this time frame until help arrives. Once CPR is started, oxygenated blood is sent out to the vital organs to keep them alive, until the heart can be restarted.
Centre LifeLink conducts monthly CPR training courses, open to community, every month. Learning CPR can save a life; most of the time, that life being someone you know. For more information, or to register: www.centrelifelink.com