Emergency Medical Technician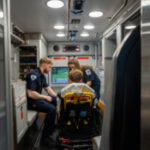 The Emergency Medical Technician course teaches students the overall roles and responsibilities of the Emergency Medical Technician, an overview of anatomy and physiology, assessment of injuries and illnesses, cardiopulmonary resuscitation (CPR), control of bleeding and shock, care of musculoskeletal injuries, medical emergencies, childbirth, pediatric emergencies, environmental emergencies, lifting and moving of patients, automated external defibrillation, and assisting patients with their own prescribed medications. Also included are the skills needed to assess the scene and properly move and transport patients to the emergency department.
Our Spring 2024 EMT class will be taught in partnership with the Centre County Public Safety Training Center.
First day of class: January 9th
Last day of class: May 1st
Class will take place Tuesdays and Wednesdays from 6pm-9pm and Sundays from 12-6 pm 
Class will take place at Centre LifeLink EMS: 125 Puddintown Rd. State College, PA 16801
Cost: $1,250 this cost includes all materials needed for the class

Preregistration is required for this program. Seating is limited. Please email bmcminn@centrelifelink.com if you have any questions.
Detailed Schedule: 
DATE TOPIC
Tues. 1/9 First Night of Class. Registration.
Wed. 1/10 Chapter 1: EMS Systems
Sun. 1/14
Chapter 2: Workforce Safety and Wellness
LAB: CPR/AED
Tues. 1/16 Chapter 3: Medical, Legal, and Ethical Issues
Wed. 1/17 Chapter 4: Communication and Documentation
Sun. 1/21
Chapter 5: Medical Terminology / Chapter 9: The Team Approach To Healthcare
Chapter 6: The Human Body
Tues. 1/23 Chapter 7: Lifespan Development / Chapter 8: Lifting and Moving Patients
Wed. 1/24 LAB: Lifting and Moving Patients
Sun. 1/28
Chapter 10: Patient Assessment
LAB: Patient Assessment
Tues. 1/30 Chapter 11: Airway Management
Wed. 1/31 LAB: Airway Management
Sun. 2/4
Chapter 12: Pharmacology
Chapter 13: Shock
Tues. 2/6 Chapter 14: BLS Resuscitation
Wed. 2/7 Open LAB, Exam 1 Review
Sun. 2/11
EXAM 1
Chapter 15: Medical Overview
Tues. 2/13 Chapter 16: Respiratory Emergencies
Wed. 2/14 Chapter 17: Cardiovascular Emergencies
Sun. 2/18
Chapter 18: Neurological Emergencies
Chapter 19: GI & Urologic Emergencies
Tues. 2/20 Chapter 20: Endocrine & Hematologic Emergencies
Wed. 2/21 LAB: Chapters 15-20
Sun. 2/25
Chapter 21: Allergy and Anaphylaxis
Chapter 22: Toxicology
Tues. 2/27 Chapter 23: Behavioral Health Emergencies
Wed. 2/28 Chapter 24: Gynecologic Emergencies
Sun. 3/3 NO CLASS – SPRING BREAK
Tues. 3/5 NO CLASS – SPRING BREAK
Wed. 3/6 NO CLASS – SPRING BREAK
Sun. 3/10
LAB: Chapters 21-24
Exam 2 Review, Open LAB
Tues. 3/12 EXAM 2
Wed. 3/13 Chapter 25: Trauma Overview
Sun. 3/17
Chapter 26: Bleeding
Chapter 27: Soft-Tissue Injuries
Tues. 3/19 Chapter 28: Face and Neck Injuries
Wed. 3/20 LAB: Chapters 25-28
Sun. 3/24
Chapter 29: Head and Spine Injuries
Chapter 30: Chest Injuries
Tues. 3/26 Chapter 31: Abdominal and Genitourinary Injuries
Wed. 3/27 Chapter 32: Orthopaedic Injuries
Sun. 3/31
LAB: Chapters 29-32
Chapter 33: Environmental Emergencies
Tues. 4/2 Exam 3 Review, Open LAB
Wed. 4/3 EXAM 3
Sun. 4/7
Chapter 34: Obstetrics and Neonatal Care
Chapter 35: Pediatric Emergencies
Tues. 4/9 Chapter 35: Pediatric Emergencies (Continued)
Wed. 4/10 Chapter 36: Geriatric Patients
Sun. 4/14
Chapter 37: Patients with Special Challenges
Chapter 38: Transport Operations
Tues. 4/16 Chapter 39: Vehicle Extrication and Special Rescue
Wed. 4/17 LAB: Chapters 34-39
Sun. 4/21
Chapter 40: Incident Management
Chapter 41: Terrorism Response and Disaster Management
Tues. 4/23 Final Exam Review, Open LAB
Wed. 4/24 FINAL EXAM
Sun. 4/28
LAB: Vehicle Extrication @CCPSTC
LAB: MCI Drill @CCPSTC
Tues. 4/30 NREMT REVIEW
Wed. 5/1 NREMT REVIEW