Hazardous Materials For EMS Providers, Recert
Our PA Fire Academy Hazardous Materials for EMS Operations course is a requirement for all LifeLink and most EMS personnel who have not previously attended a Haz Mat Operations or Haz Mat for EMS Course.
This course will provide the Operations level Haz-Mat training consisting of 6 hrs of instruction.
No class currently scheduled.
Emergency Vehicle Driver Training Program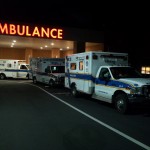 This EVDT program is designed for EMS/Fire/Rescue personnel who plan to drive any emergency vehicle or apparatus.
This program is a dynamic presentation from a team of VFIS Instructors and is designed to introduce the participant to safe driving practices along with hands-on vehicle operations skills.
This course consists of classroom and driving time including a competency course. Participants from outside of Centre LifeLink are asked to bring a vehicle to drive for the course day on November 19th.
The VFIS EVDT course is approved by the Pennsylvania Department of Health to meet the Emergency Medical Services Vehicle Operator (EMSVO) requirement.
November 14th & 16th from 6:00 pm-10:00 pm at Centre LifeLink EMS
November 19th starting at 8:00 am at the Centre County Public Safety Training Center
Cost: $99
Questions? email Brandon at bmcminn@centrelifelink.com