Basic Life Support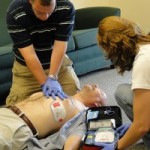 The American Heart Association BLS Course trains participants to promptly recognize several life-threatening emergencies and to, give high-quality chest compression, deliver appropriate ventilations and provide early use of an AED. This course is for EMTs, nurses, physicians, and other healthcare professionals. In the Instructor-led course, students participate in simulated clinical scenarios. Students work with an AHA BLS Instructor to complete BLS skills practice and skills testing. Students also must complete a written exam.
After successful completion of this course you will receive an American Heart Association BLS Provider card. This certification is good for 2 years from the completion date of the course.
Course Length: 4 Hours
Cost: $79.99
Course Content
Practice in high-quality CPR for adults, children, and infants
Review the AHA Chain of Survival, specifically the BLS components
Use of an AED
Perform effective ventilation using a barrier device
Understand importance of teams in multi-rescuer resuscitation, and performance as an effective team member during multi-rescuer CPR
Relief of foreign-body airway obstruction (choking) for adults, children and infants
Provider Training: .

Renewal Class: 

Friends & Family CPR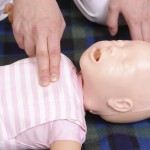 This course teaches the lifesaving skills of Adult, Child and Infant CPR and AED use.  This allows participants to have hands on practice led by skilled American Heart Association Instructors.
Family & Friends CPR is for people who want to learn CPR to keep their family and friends safe but do not need a course completion card for their job.
Course Length: 2.5 Hours
Cost: $45.00.
Course Content
Adult Hands-Only CPR
Adult, Child and Infant CPR with Breaths
Use of an AED
Adult, Child and Infant Choking
*Note: There is no certification/test included in this course.*
Courses now available

Heartsaver CPR and AED
This course is for anyone with limited or no medical training who needs a course completion card in CPR and AED use to meet job, regulatory, or other requirements. This course teaches skills with the AHA's research-proven practice-while-watching technique, which allows instructors to observe the students, provide feedback, and guide the students' learning of skills
A two year certification card from the American Heart Association is issued upon successful completion.
Course Length: 3 Hours
Cost: $74.99
Course Content
Adult, Child and Infant CPR
Use of an AED
Adult, Child and Infant Choking
Handling Opioid-associated life-threatening emergencies