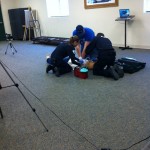 May 2, 2014—State College, PA—Centre LifeLink EMS is the proud first-place winner of the Pennsylvania HeartRescue Project and Bureau of EMS High Performance CPR Video Contest. Runner-ups include Marple Township Ambulance Corps and a tie between Cumberland Goodwill EMS and Philadelphia Fire Department.

The contest encouraged Pennsylvania EMS and QRS agencies to create a training video demonstrating high-performance CPR in response to a simulated cardiac arrest.
Centre LifeLink EMS will receive an all-expense paid trip to the Emergency Cardiovascular Care Update (ECCU) conference held in Las Vegas, NV on June 3-6, 2014 for the winning team members, and $1,000 towards Laerdal CPR training equipment.
The video that was created will be showcased in training used in state and national education settings.
The official training video, featuring Centre LifeLink's winning "Snowy Day Rescue" will be released by the Pennsylvania HeartRescue Project and the Bureau of EMS in the coming months.