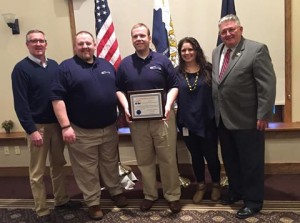 March 19, 2016–Centre LifeLink EMS has been selected as the 2016 Seven Mountains EMS Council Distinguished Agency.  Centre LifeLink personnel accepted this award at the 2016 EMS Council held in Danville, PA, over the weekend.
In 2015 alone, Centre LifeLink responded to over 6,000 calls and logged over 14,000 volunteer hours, with high patient satisfaction rates.  LifeLink has also responded to several major natural disasters over the past several years, both in Pennsylvania, and out of state in New Jersey and Louisiana.
Another component of achievement that Centre LifeLink was recognized for was the increase in cardiac arrest survival rate from 1% previously, to over 20% leaving the hospital without deficits.