Emergency Medical Technician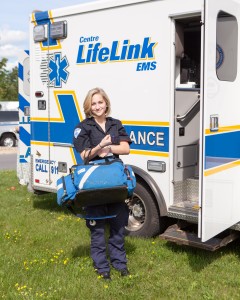 The Emergency Medical Technician course teaches students the overall roles and responsibilities of the Emergency Medical Technician, an overview of anatomy and physiology, assessment of injuries and illnesses, cardiopulmonary resuscitation (CPR), control of bleeding and shock, care of musculoskeletal injuries, medical emergencies, childbirth, pediatric emergencies, environmental emergencies, lifting and moving of patients, automated external defibrillation, and assisting patients with their own prescribed medications. Also included are the skills needed to assess the scene and properly move and transport patients to the emergency department.
Our Summer 2017 EMT classes will be taught through HAAC Shumaker Public Safety Center. All classes will be taught at Centre LifeLink's main station.
Cost: $825. Tuition includes the student liability coverage premium that is mandated for all students who participate in a required clinical experience to complete an educational program through Harrisburg Area Community College.
Funding: Centre LifeLink has funding available to those who will commit to two years of volunteer service with Centre LifeLink EMS. Please contact our training department for more information:  training@centrelifelink.com
Schedule: May 8, 2017- August, 9 2017 
Application Deadline: April 24, 2017
Please see HACC website for specific course dates and times.
Monday-Thursday, some Saturday classes. We will be offering both a daytime and evening class.
 Registration: Applications, registration and payment must be submitted through the HACC website here.
NREMT Basic Refresher (Full 24-Hour Course)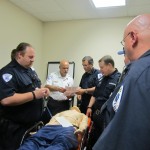 This course fulfills the requirements of a state approved 24-hour refresher course as mandated by the NREMT for recertifiation by con-ed for the EMT Basic. This course is taught by Centre LifeLink's team of experienced paramedics and EMT instructors. The content not only meets the minimal nations EMS education standards, but also expands the provider's knowledge base in a number of areas.
Course Schedule: all classes are held from 6:00 pm-10:0 pm at Centre LifeLink's Main Station.
Tuesday August 23rd, 2016
Tuesday August 30th, 2016
Tuesday September 6th, 2016
Tuesday September 13th, 2016
Tuesday September 20th, 2016
Tuesday September 27th, 2016
Course Fee: $50
Con-Ed: PA DOH CEU hours will be awarded as appropriate for course attendance, along with a certificate of completion.
Students must attend ALL dates to complete the refresher course.