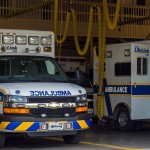 February 27, 2017—Trending with the previous two years, Centre LifeLink staff saw yet another increase in call volume over the State Patty's weekend.
Centre LifeLink was dispatched to 95 calls between 6:00 pm Friday evening, through 6:00 am Sunday morning. Approximately 32% of these calls were alcohol related, meaning that the patient had overdosed on alcohol or had suffered some other illness or injury that was related to alcohol consumption.
For comparison, in 2016 Centre LifeLink responded to 75 total calls, 46 of which were alcohol related on State Patty's weekend.