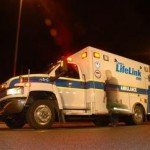 February 29, 2016– Centre LifeLink EMS staff saw an increase in call volume over the preceding two State Patty's Day weekends.
Centre LifeLink EMS was dispatched to 75 calls between 6pm Friday night and 6am Sunday morning.  Approximately 46 of these calls were alcohol related, meaning that the patient had overdosed on alcohol or had suffered some other illness or injury that was related to alcohol consumption.  Of these 46 alcohol related calls, 43 patients were transported to Mt. Nittany Medical Center's emergency department for further care.
For comparison, in 2015 Centre LifeLink responded to 49 total calls, 32 of which were alcohol related on State Patty's weekend.  In 2014, there were 50 total calls on that same event weekend.
Call volume for State Patty's this year trended closer to 2013, when 72 total calls were responded to.  The 2016 State Patty's Day for Centre Lifelink EMS correlated to a larger home football weekend.  Centre Lifelink EMS staffed two additional ambulances to handle the increase in call volume and ensure that units remained available to quickly respond to all medical emergencies in the Centre Region.