October 26, 2017– In an emer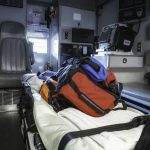 gency, the last thing you want to worry about is the bill. That is why each fall Centre Region residents are encouraged to enroll as a Centre LifeLink Member, ensuring them that they will have no out-of-pocket expenses for unlimited EMERGENCY ambulance service provided by Centre LifeLink EMS. 2018 Memberships are available beginning this month, and residents in Centre LifeLink's coverage will receive a Membership Brochure with information on how to participate.
With many insurance companies raising the price of out-of pocket deductibles, members can save an average of $300 for basic life support calls and more than $500 for advanced life support paramedic service—these are the average costs non-members pay. Individual memberships are $50.00 and family memberships are $70.00 for a one-year period beginning January 1, 2018 through December 31, 2018.
In addition to saving residents money, a Centre LifeLink Membership helps keep this vital service available in the community. As a non-profit organization with no tax support, Centre LifeLink relies, in part, on tax-deductible donations and funds raised through the Annual Membership Drive. Membership revenue and donations allow Centre LifeLink to purchase life-saving equipment.
Centre LifeLink provides 24-hour emergency service for the Borough of State College, College Township, Harris Township, Ferguson Township, Patton Township, and mutual aid to surrounding areas of Centre and Huntingdon Counties.
Residents of the Centre Region will receive a 2018 Membership Brochure in the mail and registration is also open online at www.centrelifelink.com. Any questions regarding membership can be directed to Centre LifeLink's Marketing Manager, Lauren Shurgalla: lshurgalla@centrelifelink.com or (814) 237-8163.