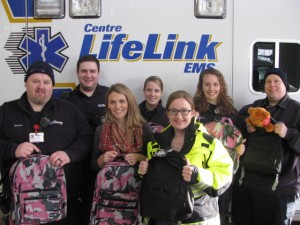 December 16, 2016— Centre LifeLink ambulances are now equipped with Buddy Packs, preassembled backpacks that will be given to children, either as a patient or a witness in a stressful medical emergency. The program is provided by the Moshannon Valley Branch of the YMCA and Walmart.
Inside the backpack, children will find age-appropriate toys and activities, such as a book, coloring book, crayons, a stuffed animal, and more. In addition to comforting the child during the traumatic medical event, the goal is to provide comfort in the days to follow the event as well.
The Moshannon Valley YMCA will maintain a supply of Buddy Packs for Centre LifeLink EMS, and other area first responders. The Moshannon Valley YMCA is accepting the following donations to maintain the program:
-Stuffed Toys – Brand new, beanie baby sized toys can be donated to the Moshannon Valley YMCA all year long.
-Dollars – Money can be donated to the project at any time. Make checks payable to: YMCA of Centre County and mark as "Buddy Pack Donation". Drop off or mail to the Moshannon Valley YMCA at PO Box 426, Philipsburg, PA 16866
-Books – Specific titles, appropriate to the age and situation, have been selected for the "Buddy Packs". Books may be dropped off at the Member Service Desk at the Moshannon Valley YMCA.
Sam & Dave Dig a Hole – by Mac Barnett
Wilfred – by Ryan Higgins
Pete the Cat I love my White shoes – by Eric Litwin
Knuffle Bunny Free: An Unexpected Diversion – by Mo Willems
Let's Go for a Drive – by Mo Willems
My New Friend Is So Fun! – by Mo Willems
A Friend Like You – by Tanja Askani
Chicka Chicka Boom Boom – by Bill Martin, Jr. and John Archambault
In addition to the Buddy Pack Program, Centre LifeLink will also participate in the Moshannon Valley Food Backpack program, and provide backpacks of food to children in need.
For more information, please contact Centre LifeLink's Marketing Manager, Lauren Shurgalla at Lshurgalla@centrelifelink.com, or your local branch of the YMCA.