Hazardous Materials For EMS Providers
Our PA Fire Academy Hazardous Materials for EMS Operations course is a requirement for all LifeLink and most EMS personnel who have not previously attended a Haz Mat Operations or Haz Mat for EMS Course.
This course will provide the Operations level Haz-Mat training consisting of 24 hrs of instruction.
Instructor Steve Bair, Fire Director of the Centre Region Council of Governments, will present an EMS-focused class that is informative and applicable to the daily routines of EMS providers.
Course Length: 24 Hours
Cost: $10


Emergency Vehicle Driver Training Program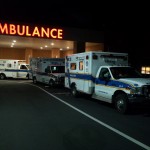 Taught through the VFIS program, the EVDT program is designed for EMS/Fire/Rescue personnel who plan to drive any emergency vehicle or apparatus.
This course consists of classroom and driving time including a competency course. Participants from outside of Centre LifeLink are asked to bring a vehicle to drive for testing.
The VFIS EVDT course is approved by the Pennsylvania Department of Health to meet the Emergency Vehicle Operator Course (EVOC) requirement.
Con ED: This course consists of didactic and practical skills and will be taught as classroom and on a skills course totaling 12.5 hours "other" CEU.
Note: This is a VFIS course only. No PA Fire Academy Certificate will be issued.
Disclaimer:
Centre LifeLink EMS, Inc. and its instructors do not make any representation or warranty, express or implied, with respect to the results obtained by the use, adherence, or implementation of any material contained in this program. The implementation of any method or procedure contained in this program is not a guarantee that you will achieve a certain desired result. Driver training is one part of the equation in providing a safe work environment. Your continued effort in all areas of loss control, safety evaluation, safety education, and the implementation of operating procedures is the most effective way to assure that you are providing a safe environment for your self, your coworkers, volunteers, and the public.
Please note that neither Centre LifeLink EMS, Inc. nor its instructors have state or local government authority to certify you as an emergency vehicle operator/driver. If authorized by law, the authority having jurisdiction (AHJ) overseeing your service activities acts as the local certifying agency having authority to certify operators/drivers in your organization.Please consult with your local AHJ for more information regarding your operator/driver status.
Centre LifeLink EMS, Inc. and its instructors require that you be familiar with the vehicle that you will be driving during the program. You are required to have explicit permission of the organization responsible for the vehicle that you will be driving during the program and must adhere to all policies, guidelines, and regulations that the organization has established for operating their vehicle. You assume all risk and liability while operating a vehicle during the program. Centre LifeLink EMS, Inc. and its instructors recommend that you complete a minimum or 10 hours of highway driving with your organization post course.

Continuing Education: Stroke Severity: RACE Exam
Centre LifeLink EMS and Mt. Nittany's Department of EMS have partnered with UPMC Altoona to present an upcoming continuing education course titled Stroke Severity: RACE Exam. The presenter is Dr. Nnenna Mbabuike, MD, Director of Cerebrovascular and Endovascular Neurosurgery/Comprehensive Stroke Program at UPMC Altoona.
The RACE score scale is a tool intended to help prehospital providers in identifying possible LVO (Large Vessel Occlusion) strokes, and if appropriate, working to get those patients definitive care at a Comprehensive Stroke Center as early as possible.
Course Length: 2 Hour
Course Date: December 5th at 7:00pm
Cost: Free
*Preregistration is required. Email fcianfrani@centrelifelink.com*
Dinner will be provided.
Email training@centrelifelink.com for additional information.