Babysitter Lessons and Safety Training
This course is an training program for potential babysitters and parents considering hiring a babysitter. The BLAST program is exciting and interactive, providing extensive training in pediatric first aid, household safety, and the fundamentals of childcare.
BLAST Designed for people ages 13 and older, their parents, and parents looking to hire a babysitter. The BLAST program can prepare children to interview for a babysitting job, select safe and suitable games and activities, prevent accidents, perform first aid, and begin babysitting safely and competently.
A certification card is issued upon successful completion.
Course Length: 4 Hours
Cost: $50.00
Course Content
The Babysitter Basics
First Aid Basics
Child and Infant Choking
Child and Infant CPR

Heartsaver Pediatric First Aid and CPR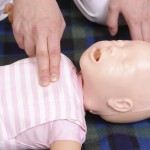 This course is a classroom, video-based, Instructor-led course that teaches students to respond to and manage illnesses and injuries in a child or infant in the first few minutes until professional help arrives
This class is good for laypersons that are looking for CPR and First Aid Certification. This course also meets the regulatory requirements for child care workers in all 50 U.S. states.
Course Length: 4 hours
Cost: $75.00
Course Content
Pediatric First Aid Basics (bleeding/bandaging, allergic reactions, use an epinephrine pen, bites, stings, drowning, burns, asthma, and more)
Child CPR AED
Adult, Child and Infant Choking
Child Choking
Infant Choking