Linky the Ambulance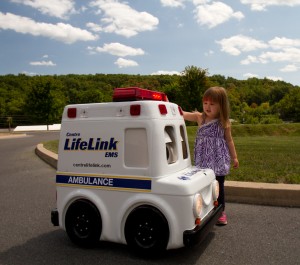 Linky the Ambulance is a fully automated robot shaped like an ambulance that moves, speaks, listens, blows its siren and can turn on its lights just like a real ambulance. The mini ambulance offers a fun, non-threatening way to provide young children with important safety messages since it is their size and can communicate with them at eye level.
Linky speaks (and sings!) to young children about hazard awareness, injury prevention, and 9-1-1. The best age group for Linky is 3-5 years old, but older kids will enjoy Linky as well.
Linky is available to the community and can be requested at health fairs, safety fairs, school visits, and more. Please contact Marketing Manager Lauren Shurgalla if you're interested in having Linky at your event.