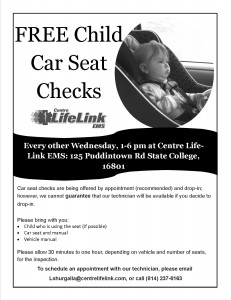 Centre LifeLink is now offering free community car seat checks at our Main Station. Seat checks are performed by a nationally certified child passenger safety technician.
Car seat checks are being offered by appointment (recommended) and drop-in; however, we cannot guarantee that our technician will be available if you decide to drop-in.
Please bring with you:
Child who is using the seat (if possible)
Car seat and manual
Vehicle manual
Please allow 30 minutes to one hour, depending on vehicle and number of seats, for the inspection.
Please see the calendar below for Car Seat check dates.